KAOD Unveils Conceptual Designs for Mixed-Use Projects in Newnan, GA
K. A. Oldham Design, Inc. (KAOD) was recently commissioned by 75 Jackson LLC, a commercial real estate company, to create conceptual designs for a restaurant and two mixed-use office buildings at 95 Jackson Street and 100 Jackson Street in Newnan, GA.
KAOD created conceptual designs for the exterior renovation of the restaurant. The building had been a drug store for 20+ years, and the interior was converted into a restaurant last year. The owner wanted to update the exterior and rework the entry/exit as well as improve pedestrian and vehicular access. The site also features conceptual plans for the development of two approximately 9,000 sf mixed-use office and commercial buildings.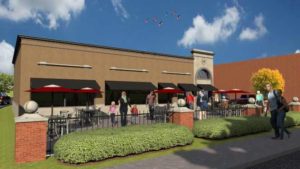 "We've enjoyed working with 75 Jackson LLC on many significant projects over the years," said Kip Oldham, AIA, Principal Architect with KAOD. "Our companies both have deep roots in Newnan and Coweta County, and we enjoy collaborating on projects that allow us to repurpose older sites and historic buildings to further improve and revitalize our growing community."
About K. A. Oldham Design, Inc.:
K. A. Oldham Design, Inc. (KAOD) is a studio-based firm providing architecture, interior design, master planning and specialized consulting services. Located in Newnan, GA (Coweta County), KAOD is a trusted design resource with over 20 years of experience in partnering with clients to solve complex design issues.
KAOD assists clients in designing a broad range of facilities including community spaces, fire stations, correctional facilities, churches, schools, libraries, offices, warehouses, hotels and other types of buildings. In addition to architectural services, the firm also offers professional interior design and tenant improvement build outs in existing spaces.
KAOD takes pride in designing projects that positively impact communities. They collaborate with clients to create unique solutions, and their talented team is committed to providing superior service. For more information, please visit https://kaod.com.
If you're considering starting a design project, please contact us to discuss your goals. We would appreciate the opportunity to brainstorm with you.
Projects of interest
Southern Christian Church
Place of Worship
Positano Pizza Napoletana
Public Restaurant